Very simply, Element79 Gold Corp. (CSE: ELEM) (OTC: ELMGF) (FSE: 7YS) is a mineral exploration company focused on the acquisition, exploration, and development of mining properties for gold and associated metals. The properties are in Ontario, Nevada, and Peru. We'll get to those in a minute. Let's what makes ELEM unique and an excellent proxy for the buoyant, sometimes frothy, gold market?
Before we get to Element79, look at a pre-ipo company you have likely never heard of. You will.

The Issue; Health Canada granted an exemption from the Controlled Drugs and Substances Act to the Province of B.C. This is effective from January 31, 2023, to January 31, 2026.
Under this exemption, adults (18 years and older) in B.C. are not arrested or charged for possessing small amounts of certain illegal drugs for personal use. The illegal drugs covered by the exemption are:
Opioids (such as heroin, morphine, and fentanyl)
Crack and powder cocaine
Methamphetamine (Meth)
MDMA (Ecstasy)

The Solution; Safe Supply Streaming is the legal and regulated supply of drugs with mind/body altering properties that traditionally have been accessible only through the illicit drug market.
Decriminalization reduces the burden on society. Providing a safe supply saves lives, saves tax money and reduces harm to individuals and society.
Safe Supply enjoys a first-mover status.
The streaming part of the model is a well-known investment model that involves Company A making an equity investment in Company B. In addition to an equity position, the investor receives a future consideration, typically a % of output (at a discount) or a royalty.
· Safe Supply Streaming Co is now applying the streaming model to the legalized narcotics industry. Already tried and tested successfully in the cannabis industry through Cannabis Wheaton (now Auxley), SSSC is the first company to apply this model to this new sector. The advantages to investees and the Company are multiple.
Here is the Investor Presentation
Safe Supply incubates and s promising products, solutions and technologies across the secure supply value chain. In this way, people can invest in the sector rather than taking on unnecessary risks by self-selecting only one or a few issues that may or may not be successful.
The Company knows that the concept works. Treatment is 23 times more effective in reducing harm from substance abuse than the war on drugs.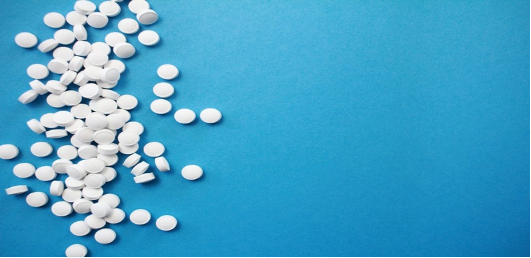 "The drug overdose crisis continues to devastate Canadian communities and families. The illegal drug supply contains potent opioids, such as fentanyl, and other toxic substances, causing high rates of overdoses and deaths. The COVID-19 pandemic has also contributed to the worsening overdose crisis, with some communities reporting record-high overdose deaths, hospitalizations, and emergency medical service calls.
Safer supply services provide an alternative to the toxic illegal drug supply to help prevent overdoses and connect people to other health and social services." (Gov't of Canada)
The concept is simple and will likely get further fleshed out soon. The crucial facts regarding Safe Supply are threefold:
First, it will save lives by producing clean drugs to reverse the blight of drug overdose deaths.
Second, the ability of addicts to get help is vastly improved.
Third, help small companies in the space develop and grow.
Stay tuned.
And Now, Back to our Regularly Scheduled Programming, Element 79.
The average daily trade volume is about a million shares. At CDN0.045 cents, the price is testing a bottom put in twice before, and volumes spiked in April and May. The shares doubled from each of the latest two lows. The risk inherent in junior gold is mitigated here.
If you believe, as do a lot of investors, that a bull market in gold is imminent — or at least on the horizon — ELEM shares make sense. Analysts assign a fair market value to the Company of CDN$ 85 million. These observations would lead to a potential conclusion that Elemental is undervalued and that 2023 could well be an exceptional growth year.
Let's review the neighbourhood.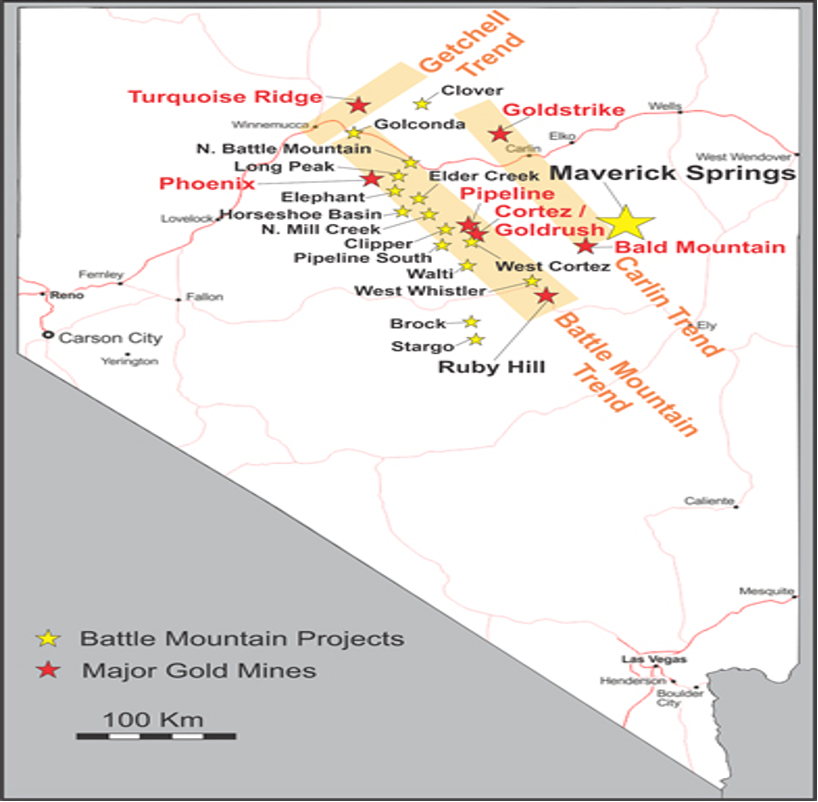 Corporate Presentation. Unlike many of its peers, the Company has announced a clear corporate growth path through 2023 and beyond. The Company also directly addresses the focus on critical properties, enforcing that spinning off extra land packages around its Maverick property is a priority.
The map/chart below shows the richness of the Nevada neighbourhood.
A bit of fun. I couldn't resist;
"It's a beautiful day in the neighbourhood
A beautiful day for a neighbour
Could you be mine?
Would you be mine?
Get it? Mine? No need to be boring.
| | | | |
| --- | --- | --- | --- |
| Mine | Major owner/operator | 2020 Au output, Koz | |
| 1 | Carlin Trend | Barrick | 1,665 |
| 2 | Cortez | Barrick | 799 |
| 3 | Turquoise Ridge | Barrick | 537 |
| 4 | Round Mountain | Kinross | 324 |
| 5 | Cripple Creek and Victor | Newmont | 272 |
| 6 | Long Canyon | Barrick | 261 |
| 7 | Fort Knox | Kinross | 238 |
| 8 | Marigold | SSR Mining | 234 |
| 9 | Phoenix | Barrick | 205 |
| 10 | Bald Mountain | Kinross | 191 |
Reading the preceding treatise, one would be hard-pressed to eschew ELEM's potential. All early gold mines take varying degrees of heat during their developmental period, but usually by folks who likely have ever been to a mine. The key is planning and property.
Closeology is a 'thing' that should be viewed in any investment decision, particularly in ELEM's Nevada properties.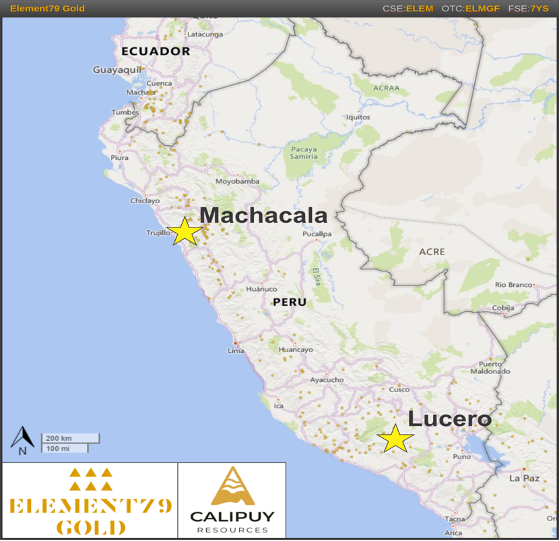 ELEM's other main area is in Peru.
Lucero comprises 10,805 hectares in the Shila range of southern Peru, containing several historically high-grade gold-silver mines.
The Lucero property is located in the Chila Range of southern Peru and is approximately 130 km northwest of Arequipa and 600 km southeast of Lima. The property is in the Chachas District, Castilla Province of the Department of Arequipa, about 22 km southeast of Buenaventura's Orcopampa mine.
A recent N.I. 43–101 report has been. Samples collected by the Qualified Person (the "QP") returned up to 116.8 g/t Au Eq (78.7g/t Au and 2,856 g/t Ag).
Prospecting by previous operator Condor Resources Inc. ("Condor") from 2012 to 2020 identified the high-sulphidation epithermal alteration zone with structures that returned peak sample values of 80.1 g/t Au Eq (33.4 g/t Au and 3,500 g/t Ag).
Only partially developed by previous companies, the potential of Lucero is immense. Analysts that have reviewed the company, its properties and its financial will should render a share price at a minimum a 20-bagger (CDN0.045-CDN0.85)
Bottom Line
The potential for ELEM as a gold proxy is obvious. As it progresses, the two areas noted should provide a rich and robust base for the Company. Once you dig in, you'll see that a share price of CDN0.04 is likely a great entry point. I own some shares, and I bought them higher.
I might buy some more. Consider a few for your promising Juniors portfolio. The graphic at the right is from Element79's most junior analyst to the CEO.