Readen Holding (OTC: RHCO) is a company engaged in the fintech, online payment, and e-commerce industries. The stock was under pressure for several weeks to hover above its 52-week low. Recently, the stock price witnessed a higher volume, resulting in a solid short-term return on investment. The increase in valuation could probably not stop because Readen Holding looks after the European market with the addition of Johannes Henri Westbroek as the new director for European business.
Readen Holding
Readen Holding (OTC: RHCO) is a listed venture capital corporation with over 30 years of activity. Headquartered in Singapore, the company faces solid competition. Asia Pacific dominates the market for e-commerce with a 55.3% worldwide market share in 2019, and the region is positioned to witness the fastest growth in the near future. The surge in internet users and the growing preference among businesses to carry out businesses through the B2B e-commerce platform are expected to grow the regional market fully. For many companies, it could be seen as a burden, but it doesn't seem to affect Readen Holding's operations which decided to use the market's steam to power its growth. When we focus on data, the company had a 410% increase year-over-year. Readen's flagship product OkePay is on track to provide significant revenues, while it had a setback in revenue for five weeks. In the meantime, RHCO continues to work with new payment providers and develops OkePartners and Oke Travel Club.
Recently, Johannes Henri Westbroek joined the board as the director of European business, including the company's subsidiaries in Europe named Okey Media BV and OK-2 BV. Mr. Westbroek is an experienced managing partner and an agile business developer. He has extensive knowledge of venture capital, media, lotteries, and start-ups. Let's focus on Okey Media. The development of this service is a strong step for expanding the company's business. This branch holds the world broadcasting and streaming right of 200+ top-notch DJ concerts & events and is closing a deal with an Asian pay-per-view platform. Okay Media also owns the rights to distribute various European TV shows, sports events, and entertainment programs. Regarding OK-2, it is another RHCO subsidiary that focuses on launching the Debit Card Business.
"We are so thrilled that he is joining us. As we are exploring new opportunities in the market, especially in Europe, we need a guy like Henri to take the steering wheel. His experience in Media would definitely help us in the development of Okey Media, which is a big potential growth opportunity for us."
Richard Klitsie, CEO of RHCO
This addition comes after Simon Tang's arrival to the team. Simon Tang is an IT and Telecom expert with over 20 years of experience in large-scale project management, corporate strategies, business development, and consultancy. He has held various top executive positions in multinational corporations and was involved in major telecom and digital transformation sectors. In recent years, he has founded Parallel51 and provided consulting and management services for China and EU companies in areas like business development, digital transformation, personal data compliance, cloud solutions, biometrics security solutions, payment platform, health tech, etc. Simon will lead the fintech business and bring new insights to OkePay, and Oke Partners initiatives and bring those branches to their full potential. For the company, it could be one of the most important addition.
When we realize how solid the board is and all the subsidiaries Readen Holding holds, it is easy to figure out how fast the company will expand and probably grow at a faster pace than the sector. At the same time, even this one will witness robust growth. The global fintech market was valued at USD $135.9B in 2022, and is expected to expand at a CAGR of 11.9% until 11.9% to reach USD $266.9B in 2027. The efforts taken by the industry players are also propelling the fintech industry. And what about the Southeast Asia region? Fintech funding in the region more than tripled to a record USD 3.5 billion in the first nine months of 2021, compared to USD 1.1 billion for all 2020.
The fastest-growing fintech categories are digital payments and digital lending. In 2021, the digital payments segment saw record funding of USD 1.9 billion, a 244% compound annual growth rate (CAGR) from USD 562 million in 2020. Digital lending also recorded a sizable 78% CAGR to USD 314 million.
Again, don't forget this name, OkePay. OkePay is one of the fastest-growing payment solutions in the world. OkePay allows global payment providers to join a network to provide payment services to network users. Transactions can be processed in over 150 currencies.
Bottom Line
Readen Holding (OTC: RHCO) could possibly be the silent-underdog mammoth you are looking for. The company added Simon Tang and Johannes Henri Westbroek, and both experienced new members to the team. Combined with the company's branches, Readen Holding should shake the fintech market in Asia and the rest of the world. With markets expected to rise in 2023, investors look for the rare pearl gathering a solid board team with innovative products that could deliver a significant return on investments. Readen Holding collects everything, and even if the stock is already up +100% from its lows, it could be only the beginning for RHCO.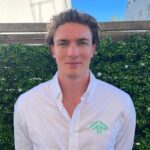 Marc has been involved in the Stock Market Media Industry for the last +4 years. After obtaining a college degree in engineering in France, he moved to Canada, where he created Money,eh?, a personal finance website. He then contributed to building Guerilla Capital, a Capital Markets company and FirstPhase Media where he is head of research. At10xAlerts, he writes articles and conducts interviews on many sectors, including technology, metals & mining markets.