ShiftCarbon (SHFT.CN) is a platform that allows clients, large and small, to measure their GHG emissions comprehensively, set reduction goals, and embed carbon offsetting into their business.

To gain a foothold in this socially responsible sector that also encompasses superior growth potential, SHFT is a viable and direct proxy.
According to the Corporate Credit Institute, a carbon credit is a tradable permit or certificate that provides the holder of the recognition the right to emit one ton of carbon dioxide or an equivalent of another greenhouse gas. The main goal for creating carbon credits is to reduce emissions of carbon dioxide and other greenhouse gases from industrial activities to reduce the effects of global warming.

Before getting into the impressive green initiatives that ShiftCarbon is bringing to the massive cruise ship sector—of which it has deep business roots through its TraceSafe technology–put the following on your webinar list:
Shift Fourth Quarter 2022 Earnings Conference Call
When: Tuesday, March 28, 2023
Time: 2:00 p.m. PT (5:00 p.m. ET)
Live Call: (833) 634-1255 or (412) 317-6015
Live Webcast: https://investors.shift.com/
The Greening of the Cruise Ship Industry Here's a video to see what these behemoths are doing to reduce the carbon footprint of this popular vacation choice. SHFT will play a large part that should add significant revenues and visibility. And then there is the potential for other forms of shipping and the movement of goods.
SHFT's foothold in the leisure cruise sector is on the back of the cloud-based Tracesafe. That has resulted in 'Focused Footprint,' recently announced.

According to McKinsey and Company, only 9% of surveyed companies can measure their emissions accurately and frequently, with over half of firms acknowledging an error rate of as much as 40%. To say the field is open to technologies surpasses understatement.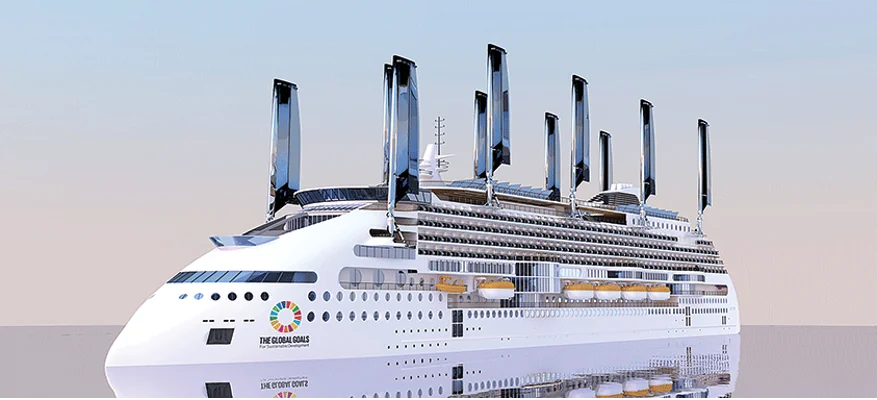 The maritime industry is highly dependent on fossil fuels and emitted about 1.2 gigatons of carbon dioxide equivalents (CO2e) in 2020, equivalent to about 3% of global greenhouse gas (GHG) emissions. This is more than the world's 5th GHG emitting country.
"…in 2023 Royal Caribbean-owned Silversea will become the first cruise line to launch a hybrid powered ship using three different energy sources: the 728-guest Silver Nova will have a hydrogen-based fuel cell system to supplement the main power supply, battery technology, and dual fuel engines, which use liquefied natural gas (LNG) as their main fuel." (Mundy Cruising)
The cruise industry has chosen 2035 as the target date for Net Zero emissions.
ShiftCarbon's proprietary tech is undoubtedly required for achieving these goals, underpinned by its "platform that allows clients large and small to comprehensively measure their emissions, set reduction goals, and embed carbon offsetting into their business.
Recent Shiftcarbon Developments of Keen Interest to Investors
Launching a new cloud platform designed for carbon offset project measurement, reporting, and verification (MRV) automation. 03/07/23.
Announced its first revenue-generating engagement with solutions by stc. The first phase of revenue from this project is estimated to be US$5 million, with the potential for additional revenue in the form of a long-term supply of goods as the smart city becomes operational. 02/23/23
Introduce Focused Footprint for the marine industry, a feature that allows cruiseliners and transportation companies to calculate their carbon emissions through guided steps focusing specifically on the marine industry. 02/16/23
As Investors will note, not only is SHFT on the cutting edge of reducing and ultimately eliminating GHG expulsions, but tech is relevant to many industries. This piece highlights the massive cruise industry, but it could have been many others. The Company is not late to these issues, as you can see below;
SHFT Stats
10+ Years building innovative technology.
50+ Customers in over 40+ countries.
5.5B+ Datapoints processed in 2021 alone.
1M+ IoT devices manufactured.
Need more?
The Company says it best IMHO;
Shiftcarbon provides an innovative platform for carbon accounting, offsets, and MRV (Measurement, Reporting, and Verification) automation. Businesses can use Shiftcarbon Measure to view a complete picture of their carbon emissions without hiring external consultants or using manual calculations. Shiftcarbon Offset provides enterprises with powerful APIs that allow customers to embed carbon offsets into their business. Find more details on www.shiftcarbon.io.
The potential—particularly at a market cap of CDN$4.4 million and a share price below a dime—should be apparent.