Arguably, the three largest Cyber Security Companies (CSC) are, Palo Alto Networks (NMS), Fortinet (FTNT) and Cisco (CSCO Agile Networks). Revenues in the same order: USD billion, ~USD5.30 billion and Q4/23USD 8.3 billion, including results from other Cisco business segments in the division.
Are you bored yet?
Investors tend to look at cybersecurity companies as flat beer.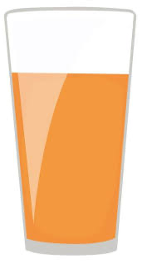 Look a little deeper, and while you won't get giddy, you will see the value. Cyber Security has become a critical and necessary product from nuclear war room systems to the moon and, recently, the complete collapse of a library system in Toronto. I'm not being clever; it just shows the range. Danger lurks behind every chip.
Revenue in the Cybersecurity market is projected to reach US$166.20bn in 2023. Security Services dominates the market with a projected market volume of US$87.97bn in 2023. Revenue is expected to show an annual growth rate (CAGR 2023-2028) of 10.48%, resulting in a market volume of US$273.60bn by 2028.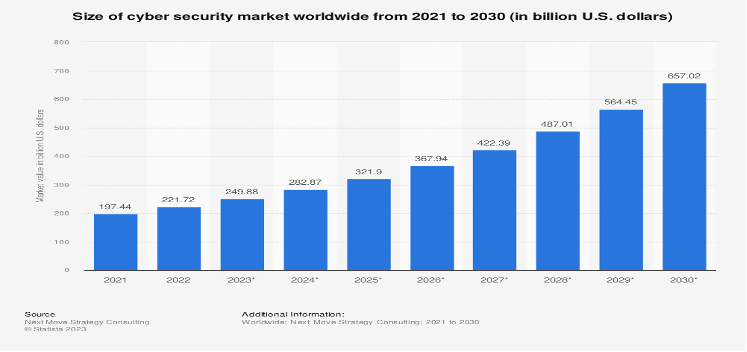 Arguably, the biggest hack in history was the Equifax data breach 2017. Equifax, a credit reporting agency, had several security lapses that enabled attackers to access sensitive PII, date of birth, social security numbers, addresses, driver's license numbers, etc., of over 143 million customers.
That's going to leave a nasty mark. And remember the library breach. Goliath stomps David. I suspect we don't hear about all of it as the cost, administration, and, frankly, the embarrassment could negatively affect a brand. Equifax. Enough said.
Network security and security tools encompass several devices, technologies, and processes. With remote working becoming the new normal, every organization requires cybersecurity experts proficient in cybersecurity tools and techniques, no matter how big or small. At present, an organization can only escape cyber threats and security issues with a good Cyber Security team. (Next)
Make no Mistake…
Cybersecurity is almost infinite in scope. The battle for hacker and or internal corporate supremacy will go on ad infinitum. Just as minerals, commodities, etc, Investors need to have exposure to the area. It is already a factor globally and has already become a factor in Ukraine on both sides. Russian spies are using hackers to target computer systems at law enforcement agencies in Ukraine in a bid to identify and obtain evidence related to alleged Russian war crimes, Ukraine's cyber defence chief told Reuters on Friday. Ahead of Russia's invasion of Ukraine in February 2022, Western intelligence agencies warned of potential cyberattacks which could spread elsewhere and cause "spillover" damage on global computer networks.

Want Quality Exposure to the Cyber Security Space?
Investors can always buy the mega-stocks mentioned above. Or, for those who want to bet the farm and are somewhat risk-oriented, check out Integrated Cyber Solutions Inc. (ICS :CSE). Only recently listed on the CSE, trade is low at this early stage but will likely perk up as investors identify CSCs that exhibit the professional and products, current and in development, that will carve out a profitable niche both for ICS and its shareholders. 
One aspect of ICS's suite of products and evolving technologies stood out: IC360.
"Say goodbye to segmented cybersecurity and hello to a comprehensive solution with IC360, a platform that helps you secure your cyber technology stack by cross-correlating information across multiple siloed software and hardware solutions. This allows you to see the big picture and identify potential threats your team may not see by only looking at one application." (ICS website).

I am not a tech whiz, nor do I play one on TV. I have been around long enough and, in my limited way, have experienced the hassle of systems crashing or compromised. Yes, I had an Equifax account.
"Concerns over financial losses are positioned to bolster the growth of the sector, as global cybercrime damages are projected to total $8 trillion in 2023 and reach $10.5 trillion by 2025, according to Cybersecurity Ventures" (Capstone Partners)
Bottom Line From ICS:
Integrated Cyber Solutions (ICS: CSE) Inc. delivers cybersecurity managed services to the small-to-medium business and small-to-medium enterprise segments. Its proprietary services include managed detection and response, endpoint detection and response, vulnerability management and assessment, penetration testing, dark web scanning, remediation, security awareness and training, and cybersecurity insurance.
It is reasonable and potentially a ground-floor opportunity in a sector with only one way to go.