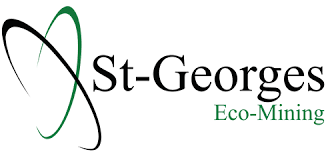 St-Georges Eco-Mining Corp (CSE: SX) (OTCQB: SXOOF) (FSE:85G1) St-Georges develops new technologies to solve some of the most common environmental problems in the mining sector, including maximizing metal recovery and full-circle battery recycling. The Company explores nickel and PGEs on the Manicouagan and Julie Projects on Quebec's North Shore and has multiple exploration projects in Iceland, including Thor Gold.
The simple premise is that critical minerals—and hopefully all metals— will never cease to be recycled or see the inside of a landfill. SX is at the cutting edge of that extremely worthwhile development.
SX works with the Quebec Government to ensure the utmost in ecological mining. While that may seem contradictory, improving environmental concerns has become a goal quickly coming to mind in the industry.
"Meeting the challenges of our day requires a unique degree of experience, understanding, commitment, expertise and know-how. At St-Georges Eco-Mining, we harness those elements to deliver a circular economy model and best-in-class climate-smart technologies that provide greater access to critical and strategic materials and financially viable solutions for recycling Critical Strategic Minerals." (SX website)
Let's look at the properties.
Quebec NorthShore; Manicouagan Project
· Area over 200 km2
· 10m drilled
· New targets identified
· A 1.1 Mt bulk sample at the surface averaged 1.71% Cu, 2.61% Ni, 3.73 g/t Pt, 5.38 g/t Pd, and 0.84 g/t Rh.
· The site of a significant media impact resulting in abundant CSM's
Julie Project
· 150 km from Quebec's Baie Comeau
· Over 160 sq km
· Historical sampling yielded grades of up to 2.2% Ni, 0.33% Cu and 0.103 g/t Pd.
· Prospective for nickel, copper, cobalt, palladium, platinum, silver, zinc, and magnesium.
Notre Dame Project
· near Saguenay-Lac-Saint-John
· 1800 hectares
· Primarily niobium (It is mainly mined in Brazil and Canada these days. …
· Most mined niobium is utilized in the steel industry).
· 5k ppm sampled
Iceland Resources
· SX owns several mineral exploration licenses
· It holds a great deal of past sampling mapping, etc.
· 4k m drilled
· 415 g/t (gold)
· Only Junior is currently exploring.
If there is one standout in a Company that has a myriad of positives, it is the concept of a 'Circular Economy' that it has applied to mining and recycling. The hyperlink above will show the Canadian Government's commitment to the idea, and partners that are industry leaders in just about all sectors, be they mining, retail, and a host of others: And growing.
From small batteries, more small batteries grow.
Lots of talk about the potential of EV batteries as it is the recycle du jour at the moment. I put alkaline batteries in my transistor radio many moons ago. We just merrily threw them away when they were done, and since the technology did not allow them to be a long-term source of power, we just chucked them. We used to smoke in elevators, too, but I digress.
SX recycles all types of batteries made from 15 chemistries to a 98 percent level. The corporate entity is ESVX, a wholly owned sub of SX.
Recycling sites include the most recent opening of SX's Thorold Ontario facility, which can recycle 20k tons of batteries, including 4.8k tons of alkaline batteries. There is nowhere for the sector to go but up. SX is ahead of the curve in a global environment that recycles less than 10 percent of spent batteries—including lithium-ion, EV and alkaline.
Bottom Line
The stock perked up since management put out a straightforward treatise as to the lunacy of such a low share price. Among the reasons, management opined was the weakness of the stock in the face of;
· We are about to see an acceleration of our activities and the delivery of different milestones, showing that our strategy is paying off.
· We are also on track to deliver the NI 43-101 reports for the Julie and Manicouagan Critical Minerals and Thor Gold projects.
· We are advancing towards monetizing the metallurgical discoveries made in the recent year in collaboration with equipment manufacturers and spodumene producers.
· We are actively working on grant applications that will support the showcase of our lithium nitrate and lithium hydroxide production technology.
· Alternative financing for H2SX and reducing our holding in ZeU are also being worked on in parallel.
I agree. It beats me why this unique hybrid mining and recycling stock doesn't reflect SX's technology, recycling acumen and social conscience. We'd all best get comfortable with the reality that we will not soon walk into a world without the bad stuff people discuss.
The eco mining industry has a better sense of the right path to sustainability than most talking heads.
Grab some. I did.