Eco-mining is not some fad to satisfy mining critics; it is top of mind within mining companies, whether Tier One global behemoths or more minor concerns.
And mining CEOs seem to know it: of those polled in PwC's 26th Annual Global CEO Survey, 41% don't think their companies will be economically viable in ten years if they continue on their current path. Therefore, the era of critical minerals must be an era of reinvention. (PWC)

Sustainability considerations are deeply embedded in the way we run our business. We have put climate change and the low-carbon transition at the heart of our business strategy. We are decarbonizing our assets, helping our customers decarbonize by developing new products and technologies, and growing in materials essential for the energy transition.

Our management of sustainability helps generate social value. We also know our stakeholders and partners are increasingly focused on our sustainability performance and use it as a critical determinant in assessing BHP and our industry. We strive to improve and exceed these expectations continuously. With the Tier One miners setting the tone, it is almost easier for new smaller companies who can accomplish 'Green' processes rather than have to pivot and retool, as it were. Both are laudable.

The other aspect is the involvement of communities nearby or with an interest in the heritage of indigenous claims. The old habit of showing up, drilling irresponsibly and damning the torpedoes, origin or claims is, thankfully, dead and gone. Whether you are a climate change supporter or think it's a bunch of nonsense, the mining direction is welcomed by all.
Shandong Gold Group is a gold mining company. SD GOLD adheres to the safety and environmental protection "double zero" target of zero safety responsibility accidents and zero environmental pollution accidents and upholds the development concept of "SD GOLD, Eco-mining" to actively promote resource conservation and emission reduction.
And in the smaller realm
At St-Georges Eco-Mining, we harness those elements to deliver a circular economy model and best-in-class climate-smart technologies that provide greater access to critical and strategic materials and financially viable solutions for recycling Critical Strategic Minerals. St-Georges Eco-Mining Corp(CSE: SX) (OTCQB: SXOOF) (FSE:85G1) released a unique PR this morning detailing why its low share price is unwarranted. Investors rarely see this opinion from the 'C' suite, but this treatise doesn't pulls a few punches.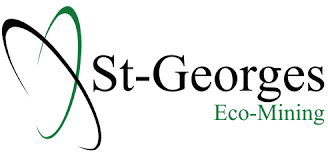 Salient points from Herb Duerr, President & CEO of St-Georges Eco-Mining Corp.
We are about to see an acceleration of our activities and the delivery of different milestones, showing our strategy is paying off.
We are also on track to deliver the NI 43-101 reports for the Julie and Manicouagan Critical Minerals and Thor Gold projects.
We are advancing towards monetizing the metallurgical discoveries made in the recent year in collaboration with equipment manufacturers and spodumene producers.
We are actively working on grant applications that will support the showcase of our lithium nitrate and lithium hydroxide production technology.
Alternative financing for H2SX and reducing our holding in ZeU are also being worked on in parallel.
St-Georges Represents a Compelling Entry Point to the Eco-Mining sector.
The company is well-positioned to capture a significant share of the growing battery recycling market.
The company is benefiting from the increasing focus on sustainability, driving demand for battery recycling.
The company has a strong management team with a proven track record.
The company is listed on the Toronto Venture Exchange (TSX-V), providing investors access to a liquid market.

The SX CEO's points apparently resonated with investors. Even though the share price is currently up slightly, at noon EST, the volume exceeds 750k with a daily average of around 300k. SX is on the cusp of a solving a genuine social issue—the recycling of batteries—and massive growth is coming.
As I ha ve said before, time is on St. George's side. The profound growth of EV cars is on the road; the faster SX
Circular technology could mean that lead is mined, put in batteries, then recycled and put into new batteries, which means using mined lead and other metals is virtually endless.
Giga Factories are popping up throughout North America, and Federal governments are incentivized to compete with Chinese Supply Chains.
Why wouldn't you own some? I do.