Nevis Brands Inc. (CSE: NEVI) Nevis innovates and develops cannabis products consumed by millions globally and across multiple markets in the United States and led by flagship brand Major™, Nevis partners with leading cannabis product manufacturers and distributors to enhance their product offerings.

On July 6th, 2023, an interesting junior cannabis beverage company was listed on the CSE. Today, it released its first earnings report. Although it was only for 2 months, it showed a profit. While modest, a junior company offering a profit this early is an impressive and rarely seen accomplishment. It also helps if you have good brands and savvy management.
John Kueber, CEO of Nevis Brands, commented, "Q3 was our first quarter operating since our acquisition of THC Essentials and the Major brand, which closed on June 30th, 2023. In our first two months Nevis was able to generate a net profit despite reorganization costs and limited finished goods inventory being available from prior ownership."
Numbers CDN (two months; June 1 – Aug 31st)
Revenue CDN275,669.00
Loss on operations CDN472,719.00
The above offset by CDN509,563 gain on debt settlements
Net income (profit) CDN10,660
Investors watching this newly listed company have seen volume increase recording, again, a modest but growing daily average of 11k shares a day. But new listings can languish in the desert for months. NEVI has provided substantive news since listing. And there have been mixed issues with mainstream cannabis companies. Those developments, while important, almost benefit NEVI as they show investors the difference between a rolled-up doobie and a nice, cool, tasty beverage.
Impress your friends: The word Doobie came from Elvis, who saw smoke from a Tour Bus. When he asked a roadie what was causing the smoke from the bus, he said, 'Oh, it's the Doobies, ' meaning the Doobie Brothers band. You're welcome.
In that same profitable period, NEVI became licensed in 5 states, including California, unarguably a massive market for cannabis-related products. There are more people in California than in all of Canada. To put that in perspective, marijuana sales in California (almost CDN6 billion) could support the economy of a small island nation. (mjbizdaily)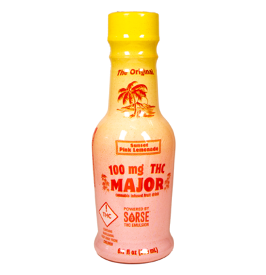 The infused quality, consistency and taste are without question. MAJOR is designed to be an affordable high-dose THC beverage that delivers a safe, consistent, and enjoyable cannabis experience with no cannabis taste or smell. Available as a medical product in WA, AZ, OR, CO, and Ohio.
NEVI's recent purchase of THC Essentials (the original owner of Major), as mentioned earlier and other vital brands such as Happy Apple, Pearl Mixer, Utopia, etc. The purchase resulted in NEVIS generating $1.55 million in licensing revenue while incurring a cost of goods sold (COGS) of $420,458. This action resulted in a gross margin of $1,133,806 and a net profit of $235,420.
"The global CBD based Beverages Market size was valued at USD 4.52 billion in 2022 and is growing with a CAGR of 25.6% during the forecast period (2023–2031). These properties of CBD are attracting the attention of many people who were skeptical about using the product, which, in turn, is creating several untapped opportunities for the CBD beverages market in North America." (Straits Research)
Top beverage brand Major ™ was purchased from SōRSE Tech. The technology enhances the taste and makes the drink enjoyable with an impressive onset time of 8-15 minutes, an industry-leading time as mentioned above.
Due to strict and regulated production, the effect of the Major Brand et al. always delivers a consistent product, as noted above.
NEVI is a unique stock. It is kind of an outlier in the Cannabis space. That said, it has the opportunity to not only have rapid profitability growth but also supplant some other forms of cannabis delivery.
Smoke won't get in your eyes.