Edison Lithium Corp. (TSXV: EDDY; OTCQB: EDDYF; FSE: VV00) ("Edison" or the "Company") is a Canadian-based junior mining exploration company focused on the procurement, exploration and development of cobalt, lithium, and other energy metal properties.
The Company's strategy is to acquire affordable, cost-effective, and highly regarded mineral properties in areas with proven geological potential. Edison is building a portfolio of quality assets capable of supplying critical materials to the battery industry. He intends to capitalize on and have its shareholders benefit from the renewed interest in the battery metals space.
The global cobalt market attained a volume of around 183.75 KMT in 2022. The market is expected to grow at a CAGR of 8.90% between 2023 and 2028 to reach a book of almost 306.47 KMT by 2028.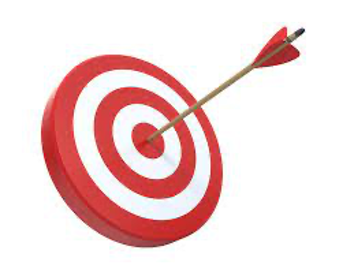 If one doubts the supply-demand picture, then companies like Edison should have no interest. The reality is that the growth figure invests in compelling and intelligent lithium. And likely profitable.
"45 lithium mines were operating in the world last year, with 11 expected to open this year and seven next year, according to Fastmarkets. That pace is far below what consultants say is needed to ensure adequate global supply. (Reuters 06/22/2023)
These points alone put a positive bullseye on EDDY (great ticker), and that's just lithium. Cobalt stats follow. If you take anything away from this article, digest these points.
It is likely indisputable that even before wholesale lithium productions appears, global supply is already 'waning', which will continue.
Having a quality junior such as Eddy gives an investor a proxy to lithium as well as to ride the wave as supply wanes, and profitability grows as prices rise.
Edison is building a portfolio of quality assets capable of supplying critical materials to the battery industry. It intends to capitalize on and have its shareholders benefit from the renewed interest in the battery metals space.
EDDY: Smack in the Middle of the Hot SA Lithium Action
Salient Points (EDDY detailed technical stats and numbers here)
SALAR DE ANTOFALLA ("ANTOFALLA")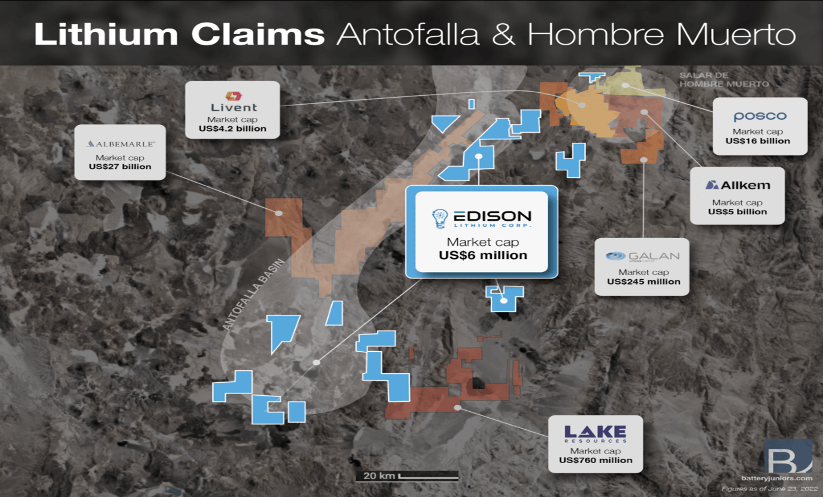 The claims are principally located in the two geological basins known as the Antofalla Salar and the Pipanaco Salar in South America's famed Lithium Triangle, a mere 20km from Livens's property (Argentina's largest producer)
Antofalla Salar hosts one of the largest lithium-bearing basins in the region. It is over 130 km long and varies between 5 km and 20 km across.
Albemarle publicly stated its belief that Antofalla has the third-largest lithium brine reservoir in the world.
Through a purchase agreement, owns or controls the rights to over 148,000 hectares (365,708 acres) of prospective lithium brine claims.
EDDY is in place to produce and do deals for its shareholders' benefit.
Nathan Rotstein (CEO) comments, "Our initial emphasis will focus on developing our properties at Antofalla, as it is a globally renowned lithium basin. Our claims in the Pipanaco salar, while only early-stage exploration, may prove to be strategic for a potential regional lithium processing facility located less than 50 km from Catamarca city. We believe this strongly positions the Company as a lithium player in South America's famed lithium triangle, during an energy metals commodities bull cycle. Our growth will be accelerated by acquisitions within the lithium space."
SALAR DE PIPANACO ("PIPANACO")
The Pipanaco Salar consists of over 41,000 hectares (101,311 acres) of core areas in this salar, located approximately 50 km west of Catamarca city.
Pipanaco holdings, located at only 700-750 meters above sea level, could represent a favourable site for a lithium extraction facility or a potash mine.
The size of our properties is comparable to that of two neighbouring lithium projects that have already defined their mineral resources:
If Edison Lithium Corp.'s properties were valued at Lake Resources' multiples, the company would be worth $950 million.
Even a cursory review should convince investors –even those jaded ones that the potential short and long-term is an exception for a junior.
Cobalt
Despite rising output, the industry may need more lithium and cobalt as early as 2025 if enough isn't invested in production, according to Leonardo Paoli and Timur Gul of the International Energy Agency. "Supply-side bottlenecks are becoming a real challenge," said Paoli and Gul in a report last year.
Sound familiar? (read above)
Shakt-Davis Mine
"The main vein varies from 1 to 7 m, whereas the vertically oriented chimney vein ranges from 1 to 3 m wide. Both are vertically oriented and contain smaltite (Co), cobaltite (Co), gersdorffite (Co), erythrite (Co), annabergite (Ni), pyrite, chalcopyrite (Cu), and niccolite (Ni). From assessment files in the Cobalt MNDM office."
A test of hand-picked ore indicated values of 0.87 oz/t Au, 0.25 oz/t Ag, 7.92% Co, and 7.72% Ni. Another smaltite ore sample returned 97 oz/ton Ag, 0.336% Co, and 0.18% Ni (Born and Hitch, 1990). Grab samples collected by N. Pettigrew in 1987 from the mine dump yielded assay values of 0.25% Co, 0.75% Ni, 0.06% Cu, 0.10 oz/t Au, and <0.10 oz/t Ag (N. Pettigrew)
Operations at the mine included sinking two shafts to 150 feet, which were connected by an admit, as well as several exploration drifts and crosscuts. Between 6 and 8 tons of ore of unknown grade are reported to have been extracted, but commercial production has yet to be recorded.
Thomas Edison acquired the Darby property (now the Thomas Edison Mine) in 1905
Edison sent undercover representatives to Cobalt, Ontario, to buy cobalt-bearing minerals produced as a by-product from silver mining in the area.
Edison pioneered new geophysical mineral extraction techniques and developed the battery-powered miners' headlamp.
Cobalt-Kitson Mine
The total production of the mine was 600 pounds of smaltite (cobalt sulpharsenide) from the 598 ft level (R. Thomson; Resident Geologist's Files, Ontario Ministry of Northern Development and Mines, Kirkland Lake; OGS Map P3116).
The Kittson-Cobalt mine is hosted in a ~70 m wide diabase dyke cutting arkoses of the lower Lorrain Formation near the Gowganda-Lorrain contact.
The project is located near the town of Cobalt in northeast Ontario, Canada.
Cobalt Silver Camp, Located ~15 km east of the Property, produced 420 million ounces of silver with cobalt as a significant by-product.
Shakt-Davis mine indicates values of 1.5% Co over 1.37 metres and select grab samples returning up to 4% Co and 93.3 g/t Au.
Bottom Line
The Shakt Davis mine saw intermittent development from 1906 – 1964, with the bulk of the underground work completed between 1924 – 1926. No production records remain; however, historical reports indicate values of 1.5% cobalt over 1.37 meters and select grab samples returning up to 4% cobalt and 93.3 g/t gold. More recent sampling (1987) of the mine waste pile by the Ontario Geological Survey personnel returned 0.25% cobalt, 0.75 % nickel, 0.05% copper and 3.4 g/t gold. EDDY Website)
A combination of successful previous mining within Cobalt, Ontario, references past successful drill programs and bodes exceptionally well for future exploitation. Argentinian—arguably the third largest global lithium brine area—is an exemplary example of 'closeolgy' as EDDY sits in the middle of companies worth 100's millions of dollars.
Scour the EDDY Website—lots of great info about the development, plans and why it is an excellent proxy for lithium and cobalt.