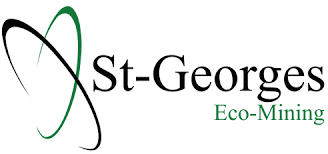 St-Georges Eco-Mining Corp (CSE: SX) (OTCQB: SXOOF) (FSE:85G1) St-Georges develops new technologies to solve some of the most common environmental problems in the mining sector, including maximizing metal recovery and full-circle battery recycling. The Company explores nickel and PGEs on the Manicouagan and Julie Projects on Quebec's North Shore and has multiple exploration projects in Iceland, including Thor Gold.
"Meeting the challenges of our day requires a unique degree of experience, understanding, commitment, expertise and know-how. At St-Georges Eco-Mining, we harness those elements to deliver a circular economy model and best-in-class climate-smart technologies that provide greater access to critical and strategic materials and financially viable solutions for recycling Critical Strategic Minerals." (SX website)

Today, SX's wholly owned Battery recycler ESVX announced it had done a deal– a European JV dea–l with Italian startup AraBat SRL. The result will be a state-of-the-art battery processing plant in AraBat's base in Puglia, Italy.
We are excited about this path we are charting with St-Georges Eco-Mining and EVSX. Moving towards the pre-treatment of batteries in Puglia (Italy) will allow us to cover a significant market gap and build a circular supply chain that will enable us to surpass our current competitors in speed and strategy. This agreement is just the beginning of a great future in the name of sustainability: we at AraBat have set ourselves very ambitious objectives, and with our Canadian partners, we are sure that we can have our say in the current global panorama." commented Raffaele Nacchiero, CEO of AraBat SRL.
Points For Investors to Consider
Agreement to be executed Q1 2024
Will be eligible for European recycling subsidies
Majority opened by Italians (51%)
49% owned by EVSX
Plant capacity 10k tons a year
Interim use of the Thorold Plant in Canada used to process Italian batteries.
All the technologies within the consortium are considered to be efficient and world-class for environmental footprint. This is an exciting time for both companies, and the approach allows for revenue generation more rapidly for both groups within Europe and allows growth throughout Italy and across Europe from the base in Puglia. The consortium will have a unique approach from battery preparation, hydrometallurgy, and pyrometallurgy for different batteries collected that is intended to be applied in North America and Europe." commented Enrico Di Cesare, CEO of EVSX
Investors have seen moderate share price gains due to management's published 'annoyance' at the company's low stock price. Even the most cursory reading of SX's press releases for the past few months shows two things: serious growth prospects and always material news. The chart above shows impressive prices and, more importantly, growing volume, the lifeblood of a junior company's existence and growth prospects.
Both SX and AraBat are innovative companies doing important environmental work. SX recycles all types of batteries made from 15 chemistries to a 98 percent level.
There seems nowhere for the sector to go but up. SX is ahead of the curve in a global environment that recycles less than 10 percent of spent batteries—including lithium-ion, EV and alkaline. Now, with a solid foothold in Europe, the Company and its partners are quickly establishing themselves as a potential global source of profit for its shareholders, and an end to battery waste. Lead, lithium, etc., are constantly used and recycled in the circular economy.
And those elements will never see a landfill again. That is a powerful reason to participate in an extremely well-managed company addressing and profiting from untapped but critical environmental need.
It would be best if you grabbed some. I did.