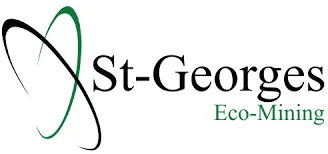 St-Georges Eco-Mining Corp (CSE: SX) (OTCQB: SXOOF) (FSE:85G1) St-Georges develops new technologies to solve some of the most common environmental problems in the mining sector, including maximizing metal recovery and full-circle battery recycling. The Company explores nickel and PGEs on the Manicouagan and Julie Projects on Quebec's North Shore and has multiple exploration projects in Iceland, including Thor Gold.

Prolific and substantive news seems the province of SX. Each deal they have completed or announced weighs squarely in favour of its development strategy and for the benefit of shareholders. One tactic is to sell or option a property, get cash, and have a remaining interest.
Today's deal? Niobium
"Alloys containing niobium are used in jet engines and rockets, beams and girders for buildings and oil rigs, and oil and gas pipelines. This element also has superconducting properties. It is used in superconducting magnets for particle accelerators, MRI scanners and NMR equipment".
The property involved is SX's Notre Dame Quebec, Canada.
Salient deal points.
To be optioned by SLAM Exploration
116 claims in 64 square km
SLAM earns 51% option after payments.
500 ordinary shares of SLAM to SX
25K cash and 500,000 shares of SLAM by the end of Q1 2024
25k cash and 1 million shares of SLAM on the first anniversary
$300,000 in qualified exploration before anniversary 2
After completing the above, SLAM earns 51% in SX's Notre Dame property. SLAM can earn the other 49% by issuance of 1 million shares.
SX will retain a 2% NSR.
SLAM can half SX's NSR with a CDN1 million payment.
"The Notre-Dame Project has the potential to host a significant niobium discovery, we believe that it deserves to be the focus of a strong geological team that can bring it to the next level (…) We look forward to our partnership with Slam Exploration and have great hope for their success (…) this transaction is in line with our strategy to focus our exploration efforts in Québec on the Manicouagan Project while the balance of the Company's resources are focused on the launch of its battery recycling operations for near term production and revenues" commented Herb Duerr, CEO of St-Georges Eco-Mining Corp.
SX exhibits, whether in its mining operation or state of the battery recycling endeavours. This aspect of the Company is an excellent example of the concept of the Circular Economy.
As I have said, SX produces great deals, relationships, and funds operations using properties for cash and exposure. The shares languished for a while but now boast a daily share trade average of almost 350k, a price and volume surge that started at the beginning of OCTOBER 2023.
Get familiar, put it on your watchlist or grab some SX. I bought some higher, but I'm not worried. I'll give SLAM the last word.
SLAM President Mike Taylor states: "The Notre Dame Project is an exciting acquisition for SLAM. Several occurrences of niobium and REE's are reported from pegmatites and carbonatites with a distinctive aeromagnetic signature. This is a key acquisition as SLAM builds up niobium, rare earth and lithium assets in the critical element space."