Happy Belly Food Group (HBFG.CN, formerly named Plant & Brands Co) is a modern health and wellness company focused on curating a portfolio of plant-based foods and exciting brands. The company targets accelerated growth ad notably announced on July 25th an LOI to acquire Lettuce Love, its 5th plant-based brand.
Happy Belly Food Group owns 4+1 plant-based companies that show significant growth:
-Holy Crap: eCommerce sales revenue for the first four months increased by +30% vs. the same period in 2021. eCommerce sales revenue captured in April 2022 increased by +84% vs. April 2021. It introduced five new SKUs in 2022. Increased retail distribution from 700 to over 850+ stores nationwide (including new retailers such as Fortinos). Added new distributors such as DSM;
-Lumber Heads: Since the close of the acquisition in February 2022, the LUMBERHEADS brand grew month over month by 175% in March. Sales growth attributed to an increase in retail locations by 40% and increased awareness and brand trials through various channels. LUMBERHEADS is discussing with its first distributor for accelerated retail growth in Q2 2002. New flavors and new SKU combinations are currently in R&D;
Yamchops: It recently completed a refresh of the entire QSR menu offerings as part of our Q2 2022 relaunch. Wholesale and Food Service has increased by 60% in Q1 of 2022 vs. 2021. Attributed to new wholesale contracts and organic growth of existing contracts. Improved cost structure and capacity for accelerated growth via a new co-packer agreement;
Heal: Within the first four weeks post-acquisition, Heal Wellness has opened a pop-up location within Yamchops in downtown Toronto's heart of Little Italy and is generating sales. Q3 is slated for Franchise framework efforts to begin for franchisee offerings to the public. Q3/Q4 is slated for sourcing new corporate locations
The company's latest acquisition is Lettuce Love. Lettuce Love was created to deliver delicious plant-based and gluten-free meals, smoothies & treats. Plant&Co assumed financial liabilities estimated to be $372,000 at the time of closing for 100% ownership of Lettuce Love. Based on the 2022 forecasted financials for the current Lettuce Love Café brand, the acquisition cost is an estimated 5.9x multiple of EBITDA. Based on the financial performance of recent locations, Lettuce Love Cafe is forecasting revenue of $1,300,000 – $1,400,000 with a projected adjusted EBITDA of $60,000.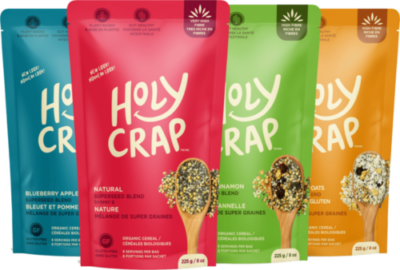 Shawn Moniz (CEO)
As CEO, Shawn leads the overall firm-wide success at Happy Belly Food Group. Shawn has a wealth of corporate leadership experience, proven technological expertise, and many years in the health care and technology sectors. Being a consummate strategic marketing technologist, he has a multitude of disciplinary backgrounds, which have enabled him to play significant roles in leading the vision, innovation, and growth strategy of many internationally known companies, while demonstrating exceptional leadership and mentorship to his teams.
Aaron Skelton (Mentor/Advisor, Canadian Health Food Association)
Aaron is an experienced executive with a demonstrated history of working in various leadership roles within the food and beverage industry. In his current role as President and CEO at the Canadian Health Food Association, Aaron is focused on developing exciting new platforms for mentorship within the CHFA, ensuring a strong and thriving industry for many decades.
Share Structure/Financials
The company shared May 30th its financial statement. Happy Belly Food has a strong balance sheet with $3.2M in total assets ($628k in cash) for $622k in liabilities. The company sold $324k of products for a $153 gross profit for the three quarters. Nevertheless, it had a $414k comprehensive loss, primarily due to its general and administrative expenses representing $440k.The company has 106M shares outstanding, with 53M warrants (avg exercise price: $0.23) which could bring $12M in cash for the company if all exercise, and 10M options (avg exercise price: $0.27) which also could fetch $2.7M in cash.Insiders are particularly active on the market, with a highlight on Sean Black. Between June 2nd and August 3rd, insiders initiated23 buys.
On July 11th, the company closed the second tranche of its non-brokered private placement of unsecured convertible debentures for additional gross proceeds of $705,000. The company has now raised a total of $2,000,000 combined in both tranches of its Private Placement.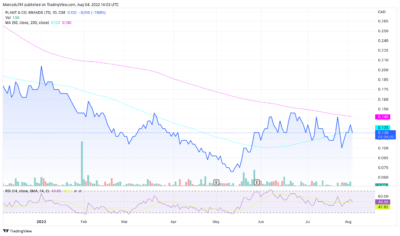 The share price is currently traded at $0.13 for a $13M market cap. The stock bounced back from its 52-week low of $0.07. If the return on investment was bearish (-37% YoY), the short-term outlook looks more optimistic. Indeed the stock gave a 52% over the last three months but is still far from its 52-week high of $0.28.
If the stock was bearish for a long time, it could soon turn bullish. The Simple MA (200) is currently decreasing to worth $0.14, while its Simple MA (50) is increasing to $0.125. Many technical also indicate the strong is a BUY. If we get a signals summary, there are 14 BUYS and 10 NEUTRAL for only 2 SELLS. The Moving Averages show HBFG is a strong buy).
Moreover, the stock is neither overbought nor oversold. Its Relative Stress Index is worth 54, and its RSI-based MA is worth 47. All these data could continue its uptrend without undergoing a sharp downtrend.
The company P/S ratio is 10. It is higher than its competitors (VERY:1.26, MEAT:6.8, VEGA:0.36), but it is explained because investors believe in the company's solid and sustainable growth.
Happy Belly Food Group (HBFG.CN) could be the underdog in the plant-based food market. The company has strong fundamentals, and if it is in a position to exercise warrants, it could continue its expansion by acquiring other companies. The stock price reveals to be on an uptrend and could be a winner.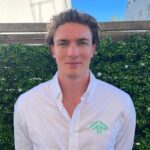 Marc has been involved in the Stock Market Media Industry for the last +4 years. After obtaining a college degree in engineering in France, he moved to Canada, where he created Money,eh?, a personal finance website. He then contributed to building Guerilla Capital, a Capital Markets company and FirstPhase Media where he is head of research. At10xAlerts, he writes articles and conducts interviews on many sectors, including technology, metals & mining markets.