In 2009, Lt. Gen. Keith Alexander, the then director of the National Security Agency of the USA, stated, 'The next war will begin in cyberspace.'
While prescient, 15 years later, Cyberwar is a significant part of aggressive social and military attacks but has yet to eschew the military and become exclusively a room full of techs besting each other for world domination.
Don't kid yourself. As military conflicts cause devastating real-world harm in the physical realm, the governments of Ukraine and Israel are battling escalating cyber harms from nation-state and non-state threat actors. Against this backdrop, the US government is increasingly alarmed about China and its capabilities of slipping into active cyberwarfare mode. (CSO Nov13th 2023)
According to a study published in 2018 by British tech research firm Comparitech, Ukraine is one of the least cyber-secure countries. The study claims Ukraine to be the 10th least cyber-secure out of 60 countries researched — slightly more secure than Iran and somewhat less than Nigeria.
Russian spies are using hackers to target computer systems at law enforcement agencies in Ukraine in a bid to identify and obtain evidence related to alleged Russian war crimes, Ukraine's cyber defence chief told Reuters on Friday. Ahead of Russia's invasion of Ukraine in February 2022, Western intelligence agencies warned of potential cyberattacks that could spread elsewhere and cause "spillover" damage on global computer networks.
The Israeli cybersecurity industry is rapidly growing in Israel's technology and innovation ecosystem. Israel is internationally recognized as a powerhouse in the cybersecurity domain, with numerous cybersecurity startups, established companies, research institutions, and government initiatives. Tel Avivis ranked 7th in an annual list of best global tech ecosystems, as reported by the Jerusalem Post.
Israel's cybersecurity industry is characterized by a high concentration of startups developing new technologies in network security, endpoint protection, data security, cloud security, and threat intelligence. In recent years, the sector has attracted significant investment from local and international venture capital firms and major technology companies such as Microsoft, Google, and IBM.
Several Israeli cybersecurity companies have gained global recognition and success, with some being acquired by major corporations or conducting successful initial public offerings (IPOs).
Analysis of the key themes driving M&A activity reveals that cybersecurity accounted for 117 technology deals announced in Q3 2023, worth $38.8bn.
Public market Cybersecurity M&A Activity 2023 (Flow Partners)
M&A: 149 transactions completed in the last six months (April – September 2023)
Fundraising: 448 funding rounds completed in the previous six months (April – September 2023)
Public markets: cybersecurity stocks rebounded, still yet to recover in line with the S&P 500
US-based companies dominate the global cybersecurity landscape
Private equity activity is on the rise
As you can see, the M&A activity in the sector is quite robust. The big boys are scouring the landscape for tech and unique systems to ignite interest and have complementary aspects to the acquisitors' offerings.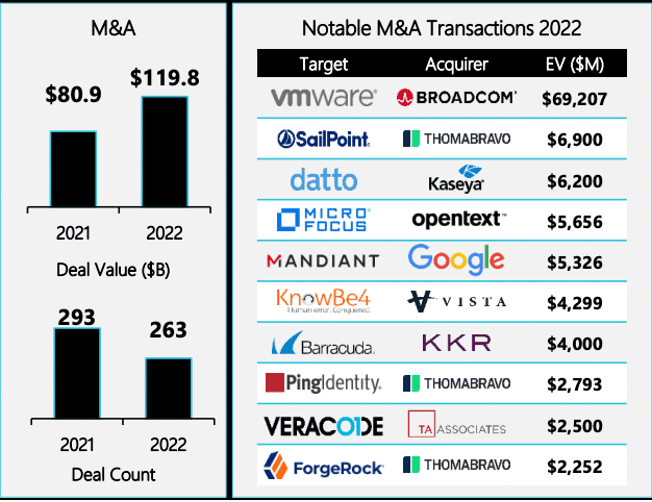 Located in several cities in the US and Vancouver Canada, Integrated Cyber Security  Integrated Cyber Solutions Inc. (CSE: ICS), a Managed Security Services Provider (MSSP), could find itself in an interesting position.

Revenue in the Cybersecurity market is projected to reach US$166.20bn in 2023. Security Services dominates the market with a projected market volume of US$87.97bn in 2023. Revenue is expected to show an annual growth rate (CAGR 2023-2028) of 10.48%, resulting in a market volume of US$273.60bn by 2028. 

So what we have here is a virtually brand new cyber security company (Listed October 10th, 2023) that has three profit potentials.
Natural growth in a dynamic space that is getting more press daily
It comes to the attention of one of the big boys and disappears into a hail of money.
Acquire smaller companies and or technologies to bolster numbers 1 and 2 above.
You might want to get on board.