Since the Covid pandemic, many companies have developed screening systems/products to detect Covid, drug impairment, and various medical conditions. Below is a comparison of two companies involved in impairment detection and, in the case of Predictmedix AI, many other states. The space is dynamic and is comprised, analogously, by a majority of analog-type products and cutting-edge digital. In the case of PMED below, it recently added AI (artificial intelligence) to denote its raison d'être more accurately.
Cannabix is a product company that develops improvements to existing impairment products such as breathalyzers. The Company represents the more plentiful of these detection companies looking for alcohol and marijuana in the workplace and for law enforcement.

By looking at the two, it should give investors the state of the sector and which area of that sector to place their portfolio dollars.
PredictMedix AI (CSE: PMED) (OTCQB: PMEDF) (FRA:3QP) is an emerging provider of rapid health screening and remote patient care solutions globally—the Company's Safe Entry Stations – powered by a proprietary artificial intelligence (AI). The technology uses multispectral cameras to analyze physiological data patterns and predict various health issues, including infectious diseases such as COVID-19, impairment by drugs or alcohol, fatigue or various mental illnesses.
The size of the impairment/medical screening sector is impressive. While there are no direct figures, we can employ 'closeology'– a resource term. The global digital health market size was valued at USD 195.1 billion in 2021 and is expected to surpass USD 780.05 billion by 2030, registering a CAGR of 36.1% during the forecast period (2022- 2030) If we add AI into the mix, even though a smaller subset, the growth is compelling.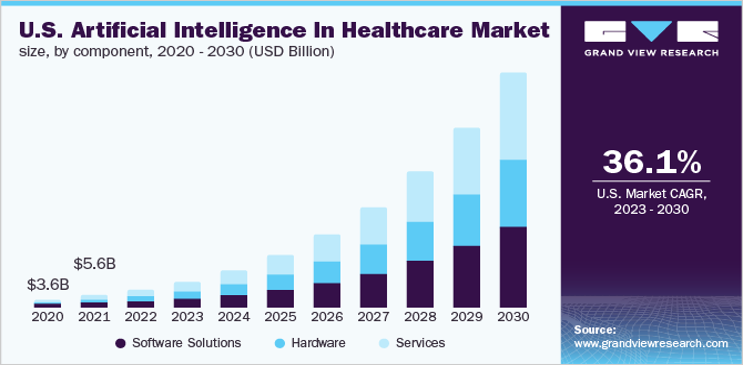 The chart left shows the rapid and significant growth of the AI/healthcare sector.

The global drug testing market will be valued at USD 11.7 billion by 2028 and is expected to grow at a compound annual growth rate (CAGR) of 4.9% during the forecast period.
Comparing the two charts makes the growth potential strongly lean toward AI-supported healthcare companies.

Cannabix Technologies Inc. (CSE: BLO) (OTC PINK: BLOZF) (the "Company or Cannabix") is a leader in marijuana breathalyzer development for law enforcement and the workplace. Cannabix is developing breath testing technologies that can be used at the point of care to detect recent use of marijuana. Cannabix is expanding its technology to help employers, law enforcement, government, and the public when marijuana becomes legal for recreational and medicinal use in many jurisdictions globally.
The chart to the right shows the concentrations and time held in various human fluids and hair. No matter what device/system is employed, time seems of the essence to detect impairment. I would submit detection beyond 24 hours following ingesting marijuana or alcohol seems superfluous.
Rather than enhanced THC breathalyzer technology, which is essential, PMED uses a safe entry system: A walk-through airport-type screener (Safe Entry station) that detects many health issues. For our discussion, we will concentrate on drug and alcohol impairment detection.
Cannabix is in the development of detection hardware, which is vital as the legalization of marijuana becomes more widespread.
Also, BLO is working on an impairment detection panel for workplaces that requires subjects/employees to provide a breath sample and be assessed before being allowed into the workspace. The most exciting part of this initiative is the ability to insert them into a personal vehicle and a large commercial transport that will render the car useless until that impairment has passed or a different driver is employed.
Taking the same approach, PMED employs a walk-through screener that will, in five seconds, detect impairment. The efficacy is that it can do every employee/subject quickly without needing to provide a breath sample. It will also notice many other health issues (Infectious diseases, Health, Industry, etc.), but we are talking about impairment. The PMED subject does not need to provide a breath sample but walks through and leaves a reading in roughly five seconds, which is the same amount of time as some of the more cumbersome Cannabix breathalyzer products.
While both companies have significant potential, AI-powered PMEDs can revolutionize the healthcare system. BLO's products are essential but, at the moment, need more global reach and more AI-powered technology.
Which Company fits your investment style is a personal matter and current portfolio makeup. Both have essential products, but the choice is a global (South Asia and has moved into the US, Canada, and Europe.) AI-based system, a Company, or a more parochial approach. Let's end with quotes from each CEO.
Rav Mlait, CEO of Cannabix, stated, "We are very excited to move forward with certification efforts for the Contactless Alcohol Breathalyzer. We have moved our device development to a common technology platform with similar chipsets, hardware components and software for both marijuana and alcohol screening devices. This includes our handheld Breath Collection Unit (BCU) for THC, THC Breath Analyzer (THCBA) and Contactless Alcohol Breathalyzer (CAB). This strategy will allow us to better scale and streamline our development. Furthermore, our use of AI algorithms across this platform is quickly broadening our capabilities."
"We are thrilled to announce our new name, Predictmedix AI," commented Dr. Rahul Kushwah, COO of Predictmedix AI. "This name change truly reflects our core values and mission as an organization, emphasizing our dedication to utilizing artificial intelligence to transform healthcare systems, enhance workplace safety, detect impairment, and optimize performance for athletes and teams."
Faites vos jeux.