USHA Resources: Undervalued & Perfectly primed to take advantage of the American E.V. Boom
Summary
USHA's Jackpot Lake property is actively undergoing a six-drill hole campaign to define a 43-101 resource estimate.
Shareholders voted 99.76% in favour of receiving SpinOut shares as a dividend.
Lithium prices gained 442.8% in 2021 and ended 2022 up another 72.5%. Demand is not slowing down.
Geopolitical competition between China and USA in the Battery space will benefit suppliers (bidding wars!)
Undervalued with a tight share structure and decent cash on hand.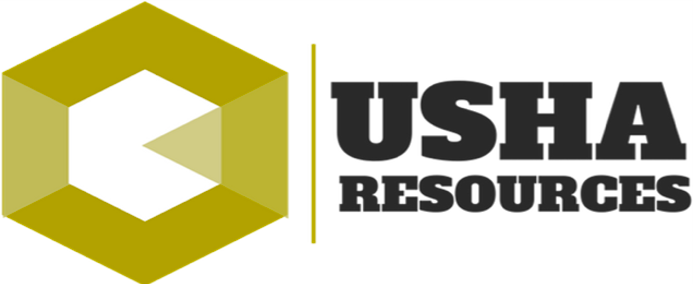 Usha Resources is a junior exploration company focusing on exploring and developing early-stage high-grade precious and base metal projects across North America (TSXV: USHA, OTC: USHAF, FRA: JO0). The company announced early in the year that it had received the necessary approval for the spin-out of Formation Metals. It is now working to fulfill the remaining closing requirements, which include getting the TSX Venture exchange's final approval of the arrangement.
Company Overview
Usha's business strategically negotiates and buys precious metals and early-stage battery projects with low start-up costs. The company transforms its properties from an idea, into a highly prospective project with immediate upside potential. The Company performs prudent due diligence under the supervision of its highly experienced and diverse board and technical team.
The company owns three up-and-coming projects: the Lost Basin-gold copper, Jackpot Lake lithium, and Nicobat nickel-copper-cobalt projects. Usha Resources seeks to develop into a best-in-class mining company by responsibly and safely pursuing the essential metals needed for tomorrow's global economy.
Jackpot Lake Project (Flagship Property)
The Jackpot Lake Lithium Brine Property comprises 140 mineral claims covering 2,800 acres and is situated in Clark County, 35 kilometres northeast of Las Vegas, Nevada (approximately 11.3 km2). The geologic model is comparable to that of Albemarle's Silver Peak Nevada Lithium Mine, the only producing lithium mine in North America, which has been in continuous operation since 1966. The project target is a 5 x 2 km anomaly that was found based on the following research, which points to the presence of a highly concentrated brine: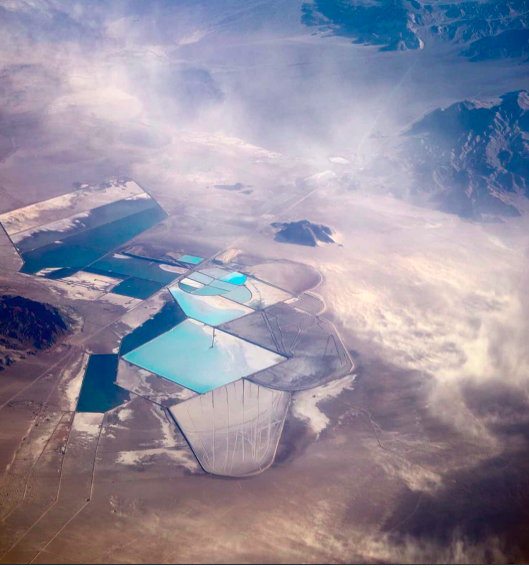 The potential for lithium mineral deposits was confirmed by spectrographic and atomic-absorption analyses of 135 stream sediment samples and data from 129 core samples that the USGS collected, with an average lithium value of 175 ppm and a high of 550 ppm. Currently, Albemarle's project has a middle grade of about 121 ppm.
A closed basin was found by gravitational surveying, essential to ensure that brines stay inside the basin without being diluted by outside water sources.
Gravitational and controlled source audio magnetotellurics/magnetotellurics (CSAMT/MT) surveys used in geophysical modelling have revealed the presence of highly concentrated brines relatively close to the surface.
The Jackpot Lake Project's CSAMT survey results show a significant, consistent body of very low resistivity throughout the property, primarily above ground. This behaviour is consistent with highly concentrated brine.
U.S. Drastically Increasing Battery Production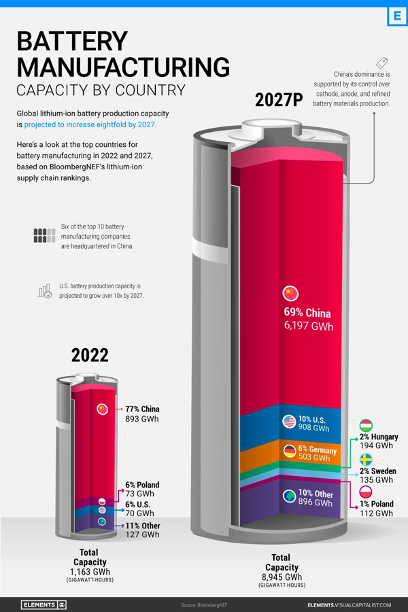 Source: https://www.visualcapitalist.com/chinas-dominance-in-battery-manufacturing/
With China currently winning the E.V. race and dominating the Lithium supply chain, drastic measures are being taken in the USA to encourage both loca minings of Lithium and domestic production of Battery Manufacturing.
Recent North American Initiatives to combat China's Increased Dominance
With both Republican & Democrat lawmakers concerned about China, they've signed the most significant E.V. legislation in history designed to outcompete rivals in China & Europe.
"Since U.S. President Joe Biden signed the bill into law August 16, at least five major EV manufacturers and battery minerals suppliers, including Toyota Motor Corp., L.G. Energy Solution Ltd. and Piedmont Lithium Inc., have announced billions of dollars worth of investments in the domestic production capacity encouraged by the legislation. The bill expands tax credits for E.V.s and includes domestic sourcing requirements to promote the development of a local E.V. supply chain to form the backbone of Biden's clean energy policy."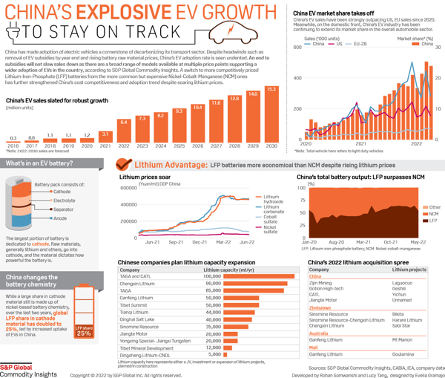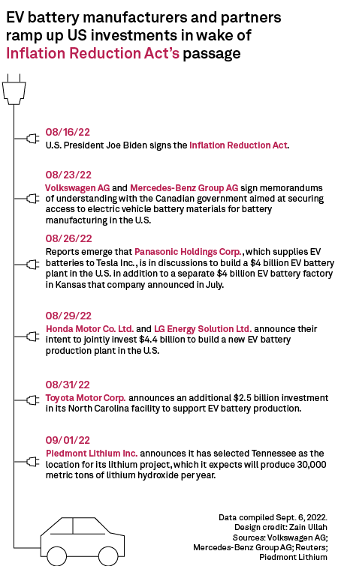 As shown in the above image, since the bill came into effect, billions of dollars in investment have come in from Manufacturers.
The Legislation seeks to move the far-flung battery supply chain into the U.S. and allied nations such as Canada and Australia. The legislation created a tax credit equivalent to 10% of the cost of production for certain critical minerals used to manufacture E.V.s, including aluminum, lithium and graphite.
The bill also contains measures to implement the Defense Production Act, which may boost domestic critical minerals processing. Companies making lithium-ion battery cells for E.V.s will enjoy a tax credit of $35 per kWh for each cell produced, trimming off a significant portion of the cost, and battery makers will get a tax credit of $10 per kWh on battery modules.
All of which are beneficial for Producers.
The Nevada Advantage
USHA's Flagship Lithium property is primarily located in Clark County, about 35km NorthEast of Las Vegas, and comprises 140 mineral claims over 2,800 Acres.
The good thing about the project is that the geological setting is very similar to Albemarle's Silver Peak Nevada Lithium Mine. That mine has been producing lithium and has been continuous since 1966.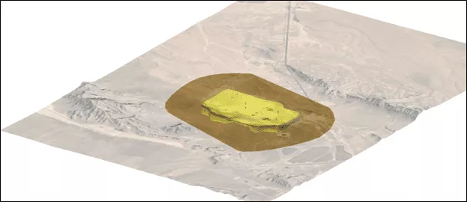 Figure 3 – 3D model of Usha's Jackpot Lake interpreted lithium brine target. The interpreted geophysical target with borehole locations overlain on the local topography produced using Maptek Vulcan. The surrounding formations of the Muddy Mountains are theorized to be the source of lithium in the area. The shell shown in yellow comprises geophysical results indicating resistivities of <5ohm metres.
USHA's Current Drill Program
The company has actively drilled over 2,700 meters over six holes and intends on commending its maiden drill program to establish a 43-101 resource. Suppose the similarities to Albermarle's deposit prove consistent with the Jackpot Lake property. In that case, we may see sediments from lithium‑rich surrounding source rocks accumulate and fill the deposit leading to a potential concentration of lithium brine due to subsequent evaporation and concentration events.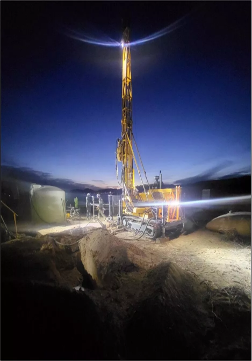 Previous Work Done on the Property
The current drill program was spurred by previous findings, which suggested to management that this must be followed up.
The following historical work has been completed that suggests the presence of a highly concentrated brine with the potential to contain lithium:
The USGS collected one hundred twenty-nine core samples with an average lithium value of 175 ppm with a high of 550 ppm and spectrographic and atomic-absorption analyses of 135 stream sediment samples confirming the potential for lithium mineral deposits. The present average grade for Albemarle's project is approximately 121 ppm.
Gravitational surveying, which has identified a closed basin, is critical for ensuring brines remain within the basin without dilution from external water sources.
Geophysical modelling based upon gravitational and controlled source audio magnetotellurics/magnetotellurics (CSAMT/MT) surveys have provided evidence of highly concentrated brines relatively near the surface. The CSAMT survey results of the Jackpot Lake Project demonstrate a large body of very low resistivity – consistent with highly concentrated brine behaviour – throughout the property, predominantly above bedrock depths of 625 meters.
Source: Website
Lithium Pricing
The Macro picture for Lithium is pretty wild. Lithium prices gained 442.8% in 2021 and ended 2022 up another 72.5%. Most of this is due to rising demand that isn't going away anytime soon.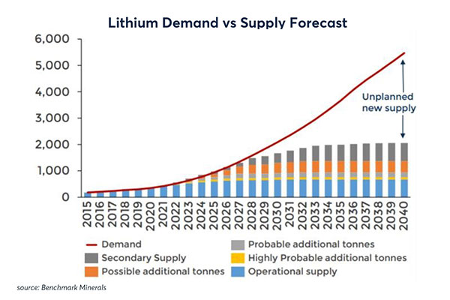 "Gigafactories," –Elon Musk's once-novel word for his five battery factories worldwide–will soon be regarded as a major part of the critical national infrastructure. There are over 300 battery gigafactories in the global pipeline, ensuring strong demand.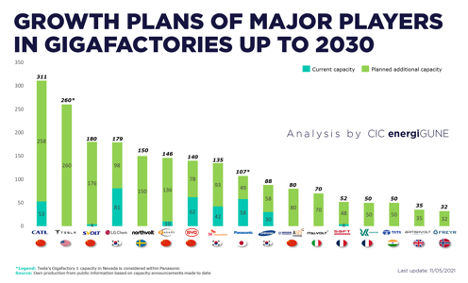 SpinOut Catalyst
When the market values your company as less than the sum-of-the-parts, management often divests property so that shareholders realize gains. USHA has announced plans to spin-out out their Nicobat property in Northwest Ontario to unlock more excellent value for shareholders.
Nicobat Project Summary
Nicobat is a nickel-copper-cobalt project in the Rainy River District in northwest Ontario, Canada. Mine development is ongoing in the area, with excellent access to roads, trains, power, and water. A 1,860-meter, 10-hole drilling program that Crystal Lake Mining completed in 2015 proved the existence of high-grade nickel-copper shoots that are significantly better than those previously noted in the historical drilling program (Drill hole A-04-15 intersected a weighted average of 1.05% nickel and 2.18% copper from the surface to 63.75 meters.)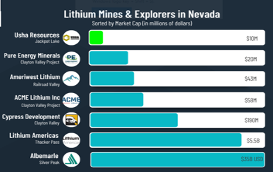 Of course, 99.76% of voting shareholders voted in favour of the spin-out. Each USHA shareholder will receive one common share of Formation Metals(the spin-out company) for every 5 USHA shares they hold on the record date.
This could be a catalyst for the USHA share price as you may get some investors buying before the Ex-Dividend date to receive the "free" Formation Metals shares.
Share Structure/Financials
The company shared its financial statements for September 30, 2022. Usha has a solid balance sheet with $1.6M in cash for no debt. Usha Resources has few expenses as the company spent less than $300k, and the highest costs were for consulting fees. Usha Resources has a beautiful share structure. Indeed only 35.6M shares are issued and outstanding, 2.3M options and 8.5M warrants are available.
Despite the TSXV's valuation decrease, the company's market cap remained relatively steady, showing strong interest from investors. The stock price is worth $0.28 and witnessed a 52-week range variating from $0.205 to $0.39.
Comparables to Other Nevada Projects
Bottom Line
Usha Resources (TSXV: USHA, OTC: USHAF, FRA: JO0) is well-funded ($1.6M in cash), has a tight share structure (35.6M shares outstanding), and their crown jewel Jackpot Lake property checks the right boxes in taking advantage of U.S. growing ambitions to outcompete China in the E.V. and lithium space.
Approving the previously announced proposed spin-out of its wholly owned-subsidiary Formation Metals Inc. Varshney providing a 20% "share dividend" to shareholders at no cost brings excitement to the company. The company is attractive and shows much upside.